Speakers – 250 GEL SET – 1400 watts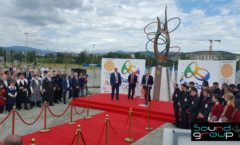 Renting of speakers with total strength 1400 watts – 250 GEL
The package includes:
RCF 715 — 2 pcs.
Speaker stands — 2 pcs.
Allen & Heath ZED 10 FX mixer — 1 pc.
Wiring
---
Concert audio and lighting systems, scene and DJ equipment rental
Sound Group has been operating in the market for the tenth year, our team offers technical support for any type of event, professional audio, video, dj, lighting and other necessary systems.
mail: info@soundgroup.ge
Cell: 593 11-22-44
www.facebook.com/SOUNDGROUP.ge
www.facebook.com/VISUALGROUP.ge